Our current episode, Parley, Promise and Politics, was shot in Hamish's kitchen, the location for various previous shoots. This time we literally turned the table, and the chairs, too, in order to make the composition work better, and to offer more potential for lighting.
We had in mind a famous painting that is often discussed or referred to in Shadow Laughter, and which was the inspiration behind a previous episode.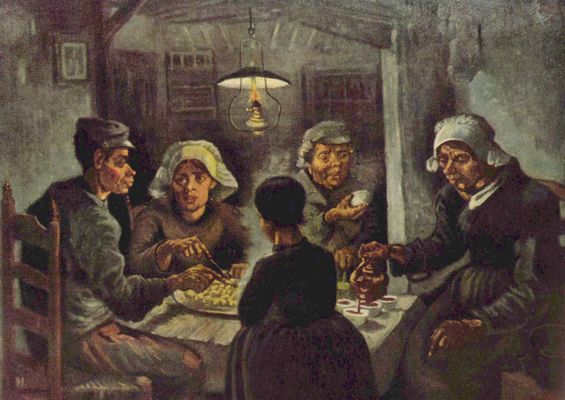 'The Potato Eaters' by van Gogh. Like us, he also made a few studies before producing the final version, including this lithographic version with the reversed composition. Go, Vincent, that's much more 'noir'!
We often take some test shots, just to check on exposure settings and to see how the lighting might need adjusting. Here are some test shots from the shoot:
It was early evening when we began, but as the sun went down the lighting became more effective of course. Hamish had placed a light underneath the table, and this produced great chair shadows, extending the geometry in these shots.
We tried out the different seating positions, in order to check the lighting on each.
We gave our ten-second acting skills a thorough workout during the set-up, and also during the shoot itself.
As our special guest star joined us, we worked out that placing her at the head of the table gave her a better position and also offered greater suggestion of her role in the scenario.
Below; one of the final shots used in this week's Thursday opener.
In our trailers, we always credit the presence of our special guest stars, and they deserve all the credit they can get!
Stay tuned, and join the adventure!
Shadow Laughter schedule:
Thursday, Saturday, Monday - Episode posts